Hengbo Acted for Gigalight Successfully Invalidating International Giant Finisar's Standard Essential Patent
 Last update:2020-02-24  browse:45second
On May 3, 2018, the China National Intellectual Property Administration (CNIPA) issued a invalidation No. 35674, declaring that patent rights of invention No. 200610149558.1, entitled "integrated memory controller circuit for optical fiber transceiver", owned by Finisar were all invalid.

It is reported that the patent is a standard essential patent (SEP) in the field of optical fiber communication. The patentee Finisar has collected a large number of patent license fees from Chinese manufacturers based on this patent. Previously, several invalidation claimants had tried to file invalidation requests for the patent, but they eventually failed for various reasons. According to relevant reports, the issuance of the invalidation decision has a greater impact on the majority of Chinese manufacturers in the field of optical fiber communications.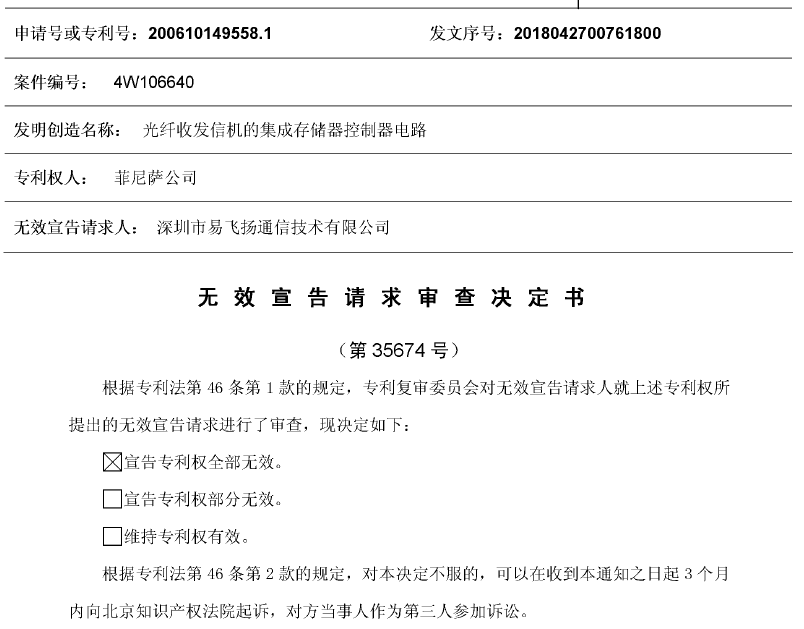 According to the law, the patentee, who is dissatisfied with the invalidation decision, can file an administrative lawsuit request with the Beijing Intellectual Property Court within three months.
The specific content of the invalidation decision can be found in the Annex: Invalidation Decision No. 35674.