Hengbo Acted for Chengdu GT-JG Science and Technology co., Ltd. Successfully Invalidating Chengdu Tangyuan Electric's Patent-Device for High-Definition Imaging
 Last update:2020-02-24  browse:36second
On October 31, 2018, the China National Intellectual Property Administration (CNIPA) issued an invalidation decision No. 37627, declaring that all patent rights of utility model, entitled "device for tunnel high-definition holographic imaging", owned by Chengdu Tangyuan Electric Co., Ltd. were invalid (The picture is only for reference and has nothing to do with this patent).
On May 25, 2018, the Hengbo team accepted the client's entrustment and conducted a large number of searches on prior arts related to the above patent. It was found that there were prior arts in the patent literature that are similar to the patent involved. On this basis, a request for invalidation was filed. After five months of trial, CNIPA finally made a decision to declare the patent in entirety invalid.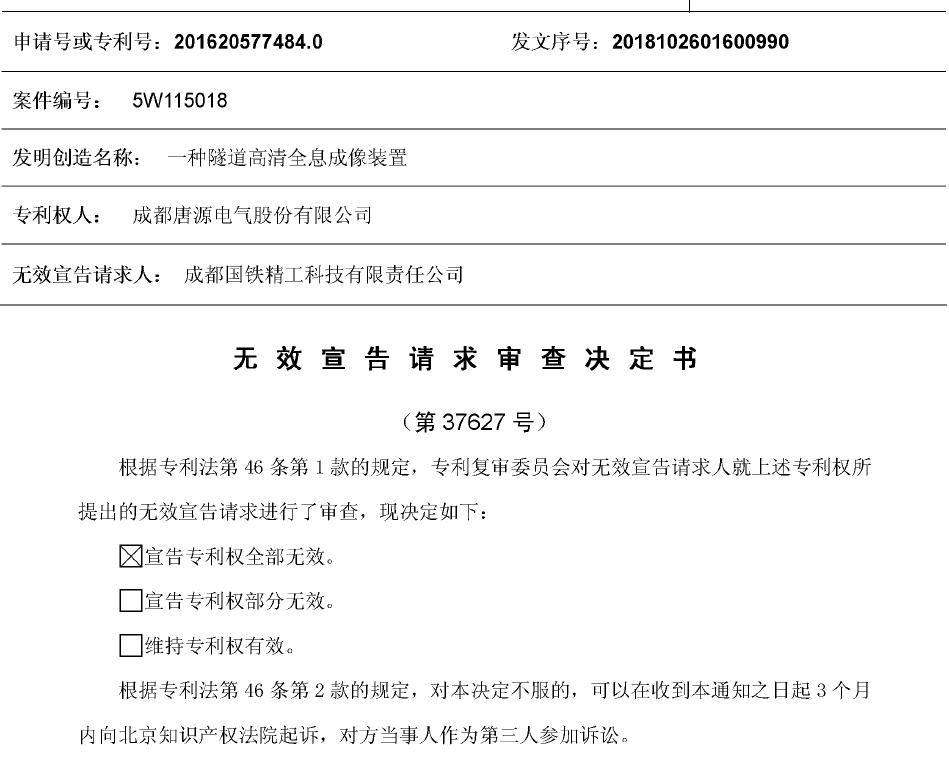 According to the law, the patentee, who is dissatisfied with the invalidation decision, can file an administrative lawsuit request with the Beijing Intellectual Property Court within three months.
The specific content of the invalidation decision can be found in the Annex: Invalidation Decision No. 37627.